Oh Pinterest, how you changed my life…
Browsing Pinterest, I stumbled upon a gold polka dot shower curtain and thought to myself: This is exactly what I need to replace my once white now stained with hair dye shower curtain.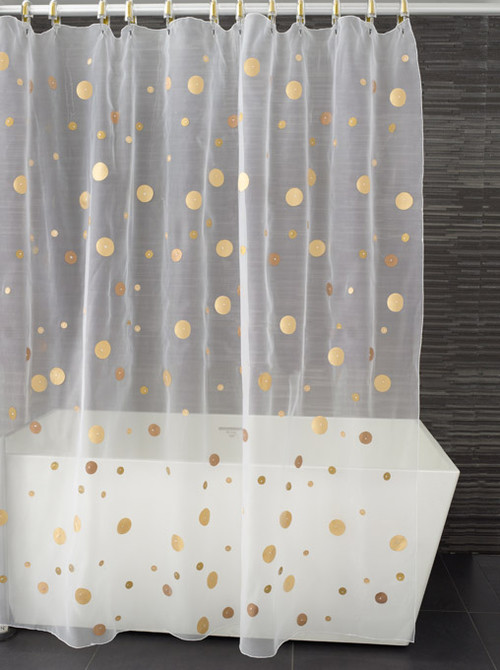 But I choked a little when I saw the pricetag though: 150$. No way I was going to pay this much for a shower curtain that, let's say it, WILL get stained by hair dye sometimes soon.
I figured that I could get a similar look with a $5 budget if fabric paint could cover the hair dye spots.
Here are all the supplies I used to turn that old and dirty curtain into a shimering work of art:

I used an old beer bottle cork as a stamp and worked section by section randomly.
TIP: Make sure that you use a plastic liner underneath when you stamp with fabric paint. I used the old shower liner – perfect size. Whoohooo, I am a genius!
This was a long process because I could only do a small section at a time, allowing the paint to dry before moving the curtain and avoid smudging the paint.
When everything was dried, I fixed the paint with an hot iron, as indicated in the instructions. All the dye spots are now covered. Incognito! HA!
For a nice touch, I also spraypainted the curtain hooks with gold paint. 

Here is the final result, in my real tiny bathroom. Love the look. Especially love that it looks like new and totalized whooping a $5 investment.
Oh yeah!
Follow us on Pinterest for more DIY inspirations.
Have a nice Monday!!