It's everywhere on Pinterest. And it's been there for quite a while.
I've been wanting to try the DIY Sharpie on ceramic for a some time now but couldn't really figure out what to do. I did not want to make a cup since, well, I have plenty of cups already. My Black and White Kitchen post inspired me to make a geometric bowl. 
I seeked inspirations for geometrical patterns around the web.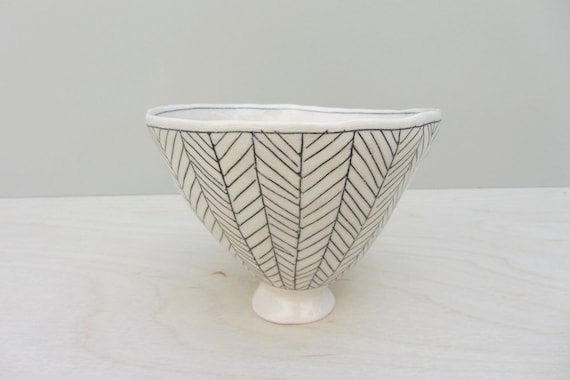 That was clearly more inspiration than what I needed. So I went with the feasibility of said design. Keep in mind that I am not the talented one…
Here's what I used:
A simple white ceramic bowl

A giant Sharpie marker

A pencil

A tape measurer

Not pictured: A nice cup of coffee and great music. 
I first started  by measuring the top and bottom of the bowl to be able to draw lines from top to bottom.
Hurray for metric system: my bowl was exactly 48 cm wide at its top and 24cm at the bottom. In inches, it was way to complicated to get equal measures.
At the top, with my pencil, I marked every 4 cm and at the bottom, every 2 cm.
I drew pencil lines from top to bottom as guides.
Then, marker time begins!
I covered my pencil lines with the Sharpie. I did not want a clean look. I wanted it to look hand-made. So lines are crooked, and doubled and not so neat – which is perfect!
Then I drew vertical lines in each column, alternating the orientation of the lines to create an herringbone kinda thing. Some lines were thinner, some bolder. Oppa Random Style! 
The good thing is, if you smudge the ink, you can always erase the mark with a damp cloth. Fiouuuu…
So once all the lines were done, I popped this baby into the oven for 30 minutes, at 400F.

Tadaaaa!!
I love it so much. Something tells me that I might get more mugs and bowls after all. Such an easy way to spark cheap kitchenware!
Hurray for Sharpie!